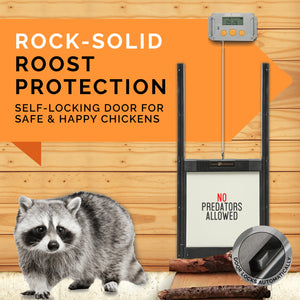 A quick guide to our CH1K-SAFE chicken coop door


A Happy Henhouse automatic chicken coop door is an essential addition for providing a high level of safety for your chickens. Auto coop doors are mainly battery powered & require very low maintenance. Before you buy this chicken coop door, it helps to know the standard features.
Key features of our CH1K-SAFE automatic door openers:
Innovative protection

: Allows you to customize the coop door settings, preventing accidents for your chickens

Top-notch locking doors and rails

: Automatically locks into place when closed.

Weatherproof controller:

Withstands harsh weather conditions. 

Plug & play technology

: Automatic coop doors take less than 10 minutes to configure. No complex wiring or cabling is required.

Battery powered

: Energizer or Duracell batteries last 6-12 months in most locations.

Simple to use

: Programmable via external push buttons. The door automatically opens & closes. You may set up for light sensor or timer operation. 
Key benefits of an auto chicken coop door
Comes as a complete kit:

Happy Henhouse's auto coop door opener is known for easy installation & great setup instructions. This kit consists of a controller, hardware, door, rails and instructions.
Auto door opening & closing options:

This door opener can automatically control opening & closing by use of a timer, light sensor and can even be configured to open or close via manual push button for when you may want that control for training. 
 Self-locking door for safe and healthy chickens:

The self locking automatic coop door keeps predators from gaining entry to the coop. Let your chickens enjoy the morning hours while you enjoy yours, no need to wake with the sun.
Easy to use

: Our automatic coop doors open and close automatically with the sun or a timer. With an easily adjustable set point, great set-up videos, and all necessary hardware, this automatic coop door kit is a winner!
Other benefits 
Easy to use

Minimal maintenance required

Automatic operation

Battery or battery+110VAC powered

Works well with wooden, PVC or metal coops

Enhances coop safety & insulation

Reliable in nearly all types of weather conditions

Can be used with all chicken types
Final words
Happy Henhouse chicken coop doors are useful and essential for your farm. They are simple to use and ensure a high degree of safety. 
Looking for the best automatic chicken door opener and chicken coop accessories for the best price? Look no further than Happy Henhouse. We offer a comprehensive range of automatic coop door openers for your farm. The qualities and features fulfill all your hen farming needs. All products are reliable, easy to use, and withstand harsh weather conditions. Order yours today!
---